Invitation
Gaspard Buma, the Arsenic theater and the Grütli theater are inviting you to the meeting: Development of a community of interest: art and technology
After two years of development, the open source tool old rubyk is arriving at maturity. To finalize this software we are going to finance a set of collaborations with artists having performance or installations projects that use new technologies and media.
In order to better grasp the needs and to talk about the modalities of these collaborations, we are inviting any person interested and/or involved in these types of projects to join us at this meeting.
dates
Date: Thursday, May the 6th 2010
Time: first session from 15pm to 16:30 and catch up session from 18:30 to 19pm
Location: Théâtre de l'Arsenic / labo, Lausanne, Switzerland
Date: Tuesday, June the 8th 2010
Time: 19:30
Location: Théâtre du Grütli / White Box, Rue Général Dufour 16, Geneva, Switzerland
Fact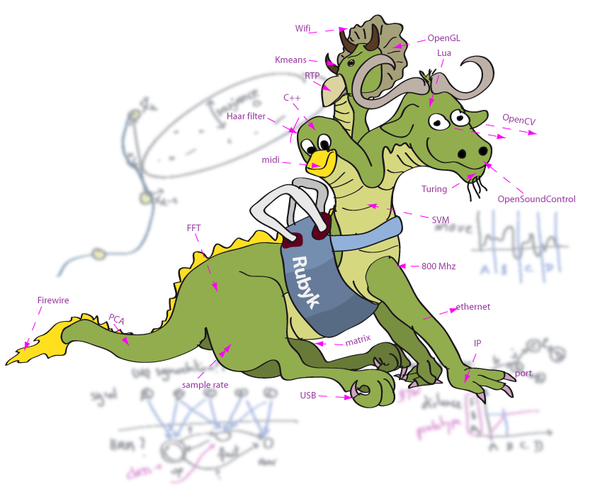 the technological beast finally tamed
It is often frustrating to create art projects that use new technologies. It requires a lot of resources and many concessions to reach a goal often far away from the initial vision. The risk is often to forget the real issue at stake: serve the project.
Goal
Rubyk is an open source tool and a community in progress that tries to tame the technological beast and make it serve art by freeing the creativity and sensibility of its users.
The community: networking skills
The Rubyk community project aims at easing the access to bleeding edge technologies for artists and to create synergies with the scientific body. To this end, we are creating a set of collaborations between artists and engineers. Through these encounters we want to build a community with a common language (Rubyk software) and sharing skills and experience related to art and technology projects.
A intuitive tool to ease artistic work
Used by artists to create their works and by scientists to do rapid prototyping, old rubyk is an open source software for real-time signal processing. It eases the transition from heavy engineering time (tool programming) and representation / experimenting time through parameter adaptation and good encapsulation. It also provides plug & play behavior between the elements connected on the network (captors, controllers, cameras, softwares, etc).
Call for entries
We will launch a call for entries in September to initiate collaborations with concrete projects. The collaborations will be organized as to solve specific problems often encountered whose resolution will benefit the community.
Types of projects concerned / areas of interest
Here is a short list to give some ideas on the areas of interest:
visual and audio productions, possibly interactive
control instruments through voice, body, ...
stage management: network based controllers
human/machine interface