Open source (MIT license) real time, dynamic signal processing tool (patcher). Lubyk is the super glue between many nice tools like Lua, OpenGL, Midi, OpenCV, etc.
Source code
The source code can be retrieved with git on github.com/lubyk/lubyk.
Bug tracking
Send an email to the mailing-list.
Current status: alpha (works, but API may change without notice).
This project reflects the current developments to the new version based on Lua. Some of the reasons leading to the rewrite can be found here.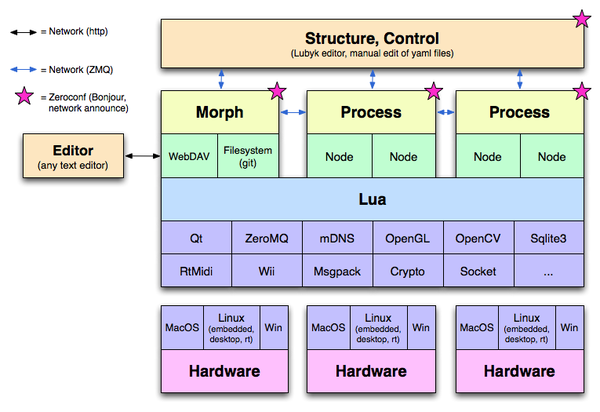 This main goals for this rework are:
single threading (use inter-process messaging for concurrency).
clever scoping (scripts should be easy to write and easy to transform into classes or prototypes).
use zeroMQ and MessagePack to pass messages around.
use tgz as packaging and maintain knowledge on the installed libraries with an sqlite3 database.
separate code from settings and views (allows multiple settings/views).
Use LuaJit2 (we want to be fast).
Keep using CMake for the build process (we don't use any external library).